10 Text-to-Image Generator AI With Quality Images and Free Prompts
With the help of text-to-image generator AI, anyone can create impressive content with just a few clicks and great imagination. Beyond your ability to write great prompts, the quality of your images depends mainly on the AI image generator you use. That said, here are 10 text-to-image generator AI with free prompts you can use to create quality visuals: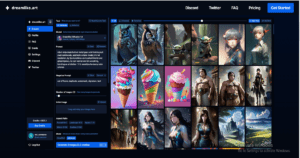 With relatively great speed, dreamlike art text-to-image generator AI allows you to create high-quality images. At the time of writing this article, it has eight AI image generator models available, including Realism Engine 1.0, Dreamlike Anime 1.0, Dreamlike Photoreal 2.0, and Stable Diffusion 1.5, among others.
After generating a maximum of five images per attempt, you can edit and enhance the outcome of your prompts with its advanced features. In addition to describing the images you want to see, you can simultaneously use a negative prompt to specify what you don't want to see based on possible misunderstandings of your prompt. Use your free prompts wisely, as users are only allowed 50 free prompts before needing to subscribe.
Dreamlike art allows you to change the aspect ratio of your images, with options for portrait, landscape, square, mobile, and desktop. The two options produce high resolutions of up to 640×1088 and 1088×640, respectively. 
Join Dreamlike art discord channel to be a part of their AI artist.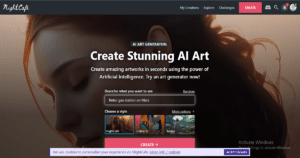 On opening an account with NightCafe Studio, if you accept their email marketing offer after accepting their terms and conditions, three free prompt credits are added to the standard five free prompt credits. A quick tour of its friendly interface is available for meticulous users.
NightCafe Studio has five algorithm options: Stable Diffusion (v1.5, v2.5, XL Beta) and DALL-E 2. Each algorithm comes with a different image number option and image quality. Settings for each prompt cover the number of images you want per prompt, output resolution options, varying runtime options, and an aspect ratio option that affects your output resolution. Some of these setting options come at different credit costs.
If you are the social type, Nightcafe allows you to chat with other users who can also socialise with you at will. Nightcafe gets more interesting if you join their daily challenges, where you can be a winner if your creations get the highest amount of votes.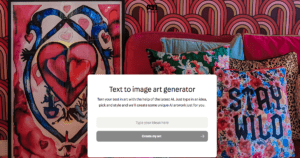 Turn your text into eye-catching image art with one of the simplest text-to-image AI interfaces. What makes Fy! Studio unique is its built-in infrastructure that allows you to order your AI-generated art as prints, perfect for wall art. The best part is you have unlimited prompt credits. Its algorithm runs on StableDiffusion and DALL-E2, among others. Fy! Studio offers other features that may interest you once you join the platform.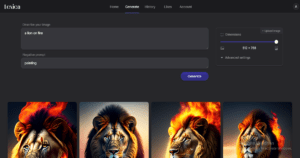 This Stable Diffusion-powered text-to-image AI generator has a straightforward interface. Describe your image, apply negative prompts, adjust dimensions, and expect to receive hyper-realistic images like the ones displayed in its gallery.
Lexica allows you to create 100 images before upgrading to a paid plan. The images you generate can only be used for commercial purposes if you are on a paid plan, and Lexica is one of the few AI image generators with an app downloadable on the Play Store.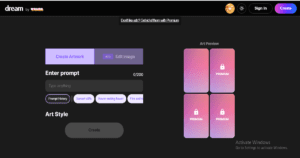 Dream AI by Wombo is another text-to-image AI generator with unlimited prompts. However, it has a premium version for users who want to enjoy other perks like increasing the number of their image output and art styles. It has 78 different art styles, with 62 of them available on the free plan.
Whilst on this platform, you will see another feature that allows you to edit generated images or images from other sources. This editor allows you to edit images with text of a maximum of 200 characters. Cool, right?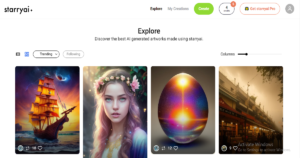 Starry AI generates both artworks with many artistic styles and high-quality photos. While its photo generator has some restrictions when trying to adjust the settings of your images, its art generator, on the other hand, has fewer restrictions. It has a simple interface, and every user on its free plan only gets five free prompt credits.
Like most AI text-to-image generators discussed earlier, you can easily access your previous creations and explore the trending creations from other creators on the platform.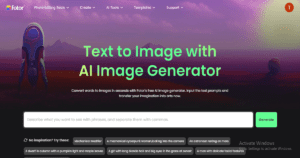 The Fotor AI text-to-image generator is one of the AI-powered features of the Fotor AI photo editor. Like many AI image generators, it uses OpenAI's DALL-E 2 algorithm, which is known for creating high-quality images. It offers free prompt credits but with limitations. It also provides several style options, including Japanese Anime, 3D, Oil painting, and more. The maximum number of images per prompt is six, with light effects and composition adjustment settings, which are rare compared to most AI-powered image generators.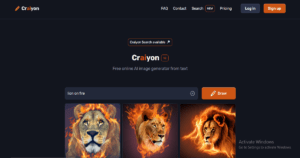 Craiyon runs on DALL-E mini, a lesser version of DALL-E 2, so you may not expect the highest quality images from it. Nevertheless, it still produces excellent images with a fantastic output of nine images per prompt. It is free with unlimited prompts but leaves a watermark on every image made on the free plan. It also takes more time to generate images, and that's if you're generating images on its paid plan.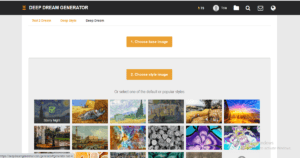 Deepdream image generator offers eight AI models to choose from as the algorithm for your particular image generation. It provides free prompts with a minimum of 20 energy levels and a maximum of 70 energy levels, depending on the user's level. 
Before generating images based on your prompt, you can add specific modifiers, such as choosing an art style (e.g., oil painting or pencil sketch) and specifying whether the desired outcome should have an artistic or realistic look. There is also an option to provide a base image for the image you want to generate. Additionally, you can improve the quality of your images with settings that include face enhancement, upscale & enhance, regenerate, and a new variant of the regenerated images.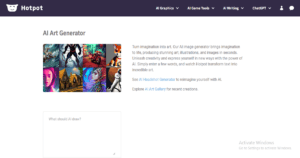 Hotpot AI is an art generator that produces art images based on your prompt, the selected style and the quantity of image output chosen. It gives users a maximum of 15 free prompt credits daily.
If you struggle to produce images, you can contact Hotpot AI's team, who will help you create designs for free. You can only use the images generated for commercial purposes if the images were generated using Hotpot AI's paid plan.
Unlocking the Potential of AI Text-to-image Generation
Text-to-image generator uses machine learning algorithms to create images from text data, making it an easy and accessible resource for generating unique visuals. With some basic interface knowledge, you can input text and quickly produce stunning images. 
AI text-to-image generators are valuable for creating compelling visuals that effectively grab attention and convey information. Remember to use them responsibly while being full of imagination.