8 Free AI Email Assistants for Increased Productivity
AI email assistants are now crucial due to the need for less labour-intensive ways to keep up with the number of emails that need to be sent out or responded to. Managing emails can be overwhelming and time-consuming in today's fast-paced digital world. AI email writing tools & assistants will be the best way we handle our inboxes in a most likely AI-dominated future. With its advanced capabilities, an AI email assistant can intelligently respond to emails on your behalf, saving precious time and reducing email-related stress. 
While there are many AI email assistants out there which come at a cost, here are free ones available for you.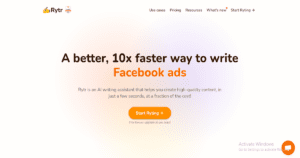 This email assistant is an AI writing tool and content generator. It can generate written content for your email newsletter in more than 35 human languages. It has about 30 use case options, including email writing for day-to-day email interaction, cover letter writing for job hunting and copywriting framework for email marketing activities. 
Rytr has a maximum of three output variations, a tone selection feature and an adjustable level of creativity to suit your desire. This surprisingly free email writing bot has an upgrade option to move your experience to the next level.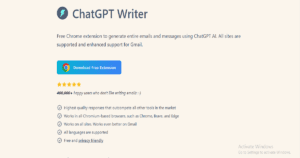 ChatGPT Writer is a free Chrome extension primarily designed to help you write emails and generate appropriate replies to emails in your inbox. This AI writer supports all languages and works on all sites, especially Gmail.
With a one-liner prompt, you can tell the ChatGPT writer what kind of email you want to write and how you want it to respond to a particular email. If you are concerned about your email privacy, this AI email assistant does not save your messages. It only uses the context of your message for the sole purpose of generating appropriate responses.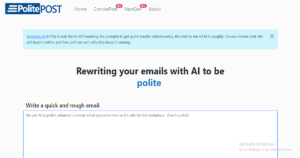 As the name implies, Polite Post AI email assistant helps you to rewrite the rough first draft of an email you probably wrote in a rush. The output of the email rewritten by AI is a more professional, courteous and polite email that is safe for work.
It also has a feature that makes lengthy and long-winded emails concise so you don't drown your reader with unnecessary words. If you are a fan of "let's cut to the chase", this is a feature you would like. Like ChatGPT writer, it runs on OpenAI's GPT4 algorithm.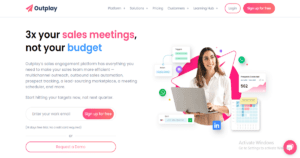 This is an AI-powered sales platform with several email management use cases, including email sequencing, prospecting and cold emailing. Its ability to combine what it learns from drafting sales and what it gathers about your prospect provides personalised email copy, therefore streamlining your email workflow like never before.
Its free plan allows users to:
View hot leads

Send 50 emails per day

Access email templates

Automate email sequences

Track email opens, replies and clicks.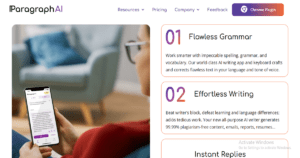 ParagraphAI is a ChatGPT-powered writing app and keyboard extension that generates an email from scratch and is also great for replying to emails. It can write in over 30 languages and has a Chrome plugin. 
If you understand ChatGPT, using this app will be seamless for you. It is available on the apple app store and PlayStore.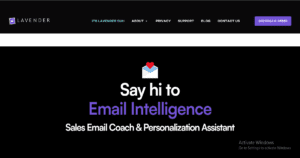 This AI email assistant, unlike most, is an AI sales email coach that assists its users in getting more positive replies and writing better emails faster. This email intelligence is designed to help make your team better and more profitable.
Lavender allows registered users to analyse and personalise five emails per month, but users must upgrade their plan to unlock more of its AI features. Lavender grants students, job seekers and bootstrap entrepreneurs free access to more of its best features if their application for an upgrade is received well. If you want to apply, email Lavender's team.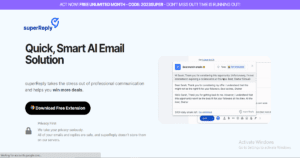 This is another AI for email writing. SuperReply seeks to ease professional communication and increase your productivity. It's another AI email assistant taking writer's block away from your life. It has a free Chrome extension with personalisation features such as mimicking the tone of an email message you want to reply to. All you have to do is use its tone-matching options to your satisfaction. SuperReply allows you to send 75 intelligent responses per month at no cost.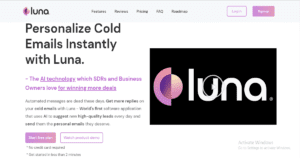 Luna is a prospecting AI email assistant helping service providers to find the perfect leads and engaging them in a highly personalised way. Luna helps its users discover new leads daily with AI that follows up until your leads respond, and it keeps adjusting to your interaction preferences over time.
Luna connects with over 5000 apps using Zapier. Apps you can connect to include;
Gmail

Hubspot

Pipedrive

Microsoft Outlook etc
Luna is available as a mobile app for you to keep prospecting anywhere you are.
Unlock unparalleled productivity with an AI email assistant by your side.
Embrace the power of AI and get more email activities done, whether for personal interactions or email marketing purposes.