Apollo Agriculture Secures $40m Series B Funding
The Kenyan startup empowers farmers to increase their profitability with access to financing, high-quality farm inputs, insurance and optimised advice.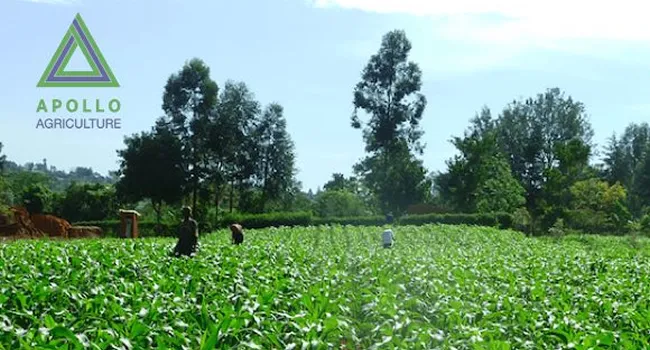 Apollo Agriculture has raised a US$40 million Series B funding round to help it expand internationally and enhance its product.
The startup leverages machine learning, remote sensing, and mobile payments to accurately underwrite farm credit risk and has built an automatically managed network of more than 5,000 agents and nearly 1,000 retailers that enables last-mile delivery of farm inputs and services to small-scale farmers.
Its US$40 million Series B is led by Softbank Vision Fund 2, and also includes participation from the Chan Zuckerberg Initiative, Yara Growth Ventures, Endeavor Catalyst, CDC, and existing investors including Anthemis Exponential Ventures, Flourish Ventures, Leaps by Bayer, SBI, Breyer Capital, and TO Ventures Food.
Apollo will use the funding to expand geographically, enhance its products and technology, and keep building its world-class team. The business has a strong team across its Nairobi, Amsterdam, and remote offices and plans to expand its operations, software engineering, data science and marketing teams over the next year.
Eli Pollak, CEO, and Co-Founder of Apollo Agriculture said: "Our mission at Apollo is to ensure that every farmer, everywhere, has the tools they need to farm profitably. Rural communities are the backbone of society, yet have been largely ignored by most technology investors, particularly in emerging markets."
"We are incredibly proud to focus relentlessly on farmers and build products with the potential to improve the lives of millions of people around the world. Softbank Vision Fund 2's investment is a powerful validation of Apollo's business model and accelerates the rapid growth of our business and team," Pollak adds.
Alexia Yannopoulos, Investment Director at SoftBank Investment Advisers, said: "Apollo's platform offers a one stop shop solution to help small-scale farmers in emerging regions to improve crop and livestock outputs. Embedding valuable financial services like credit, insurance and advice into the supply chain is critical in supporting a more efficient and sustainable global food chain."