MaxAB, Gets $15m Series A Extension, Acquires Morocco-Based Waystocap
Egyptian eCommerce platform, MaxAB, gets $15m Series A extension, acquires Morocco-based WaystoCap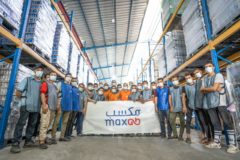 MaxAB, has announced getting $15 million additional funding in closing its Series A round, and the acquisition of WaystoCap, a YC-backed Morocco-based B2B, eCommerce, and distribution platform.
The Egypt-based Business to Business (B2B) ecommerce platform recently announced a Series A funding of $40 million making it one of the largest funding in the Middle East and North Africa (MENA) region
The extra funding came from existing investors, RMBV, IFC, Flourish Ventures, Crystal Stream Capital, Rise Capital, Endeavour Catalyst, Beco Capital, and 4DX Ventures.
MaxAB's acquisition of WaystoCap is in line with its plans to scale across Africa. CEO and Co-founder, Belal El-Megharbel, believes that it is a step in the right direction, owing to their pre-existing relationship with WaystoCap, and the startup's experience in the region.
"We are about to take the food and grocery industry to another level in North Africa. The creation of this new super-team, combining a powerhouse of talent, technological know-how, on the ground infrastructure, boosted supply chains, and WaystoCap's phenomenal experience of the region is very exciting. We have a long-standing and excellent working relationship with WaystoCap and share a common vision to re-engineer the traditional food and grocery market to better serve traditional retailers," El-Megharbel added.
According to MaxAB, the acquisition will see it position itself in Morocco and the Maghreb region, which comprises Algeria, Libya, Mauritania, Morocco, and Tunisia.
Niama El Bassunie, Managing Director, MaxAB Morocco, said she sees the merger as a positive signal for the ecosystem in the MENA region, as it fosters efforts to build solutions that solve the region's unique challenges.
"Morocco is an exciting and fast-growing market, and with the tremendous increase in government and investor support, the tech ecosystem in Africa and the Middle East is enabling entrepreneurs to build and create novel solutions for some of the key day-to-day challenges faced in the region," El Bassunie added.
"We are thrilled to play a pivotal role in the new all-star team being created and led by experienced, innovative entrepreneurs to establish a regional market leader in food and grocery supply. We are looking forward to continuing our close working relationship with our new team and taking the business to its next phase." El Bassunie concluded.