Nestcoin said it will lay off some of its employees as it re-strategizes to keep the business going. According to a statement by the CEO and Co-founder of the company Yele Bademosi, the reason for the new development is that a significant portion of its stablecoin investment was held in the now-bankrupt crypto exchange, FTX.
The company stressed that the incident has no impact on its customers financially, adding that the products Nestcoin has released to date are Defi protocols & non-custodial in nature. As such, it has never held customer funds.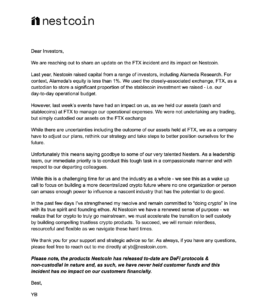 Yele Bademosi described the situation as challenging for the company and the entire crypto industry.