Payday Partners SpaceX Starlink In Rwanda
The leading Pan-African neo bank issuing global (USD, GBP & EUR) accounts to Africans has announced its re-entry into Rwanda following the official launch of SpaceX's Starlink in the East African country.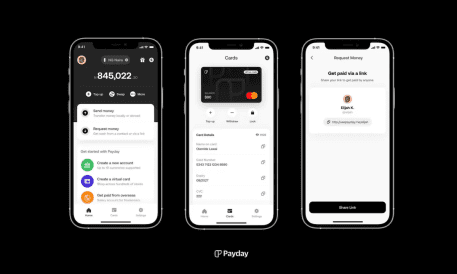 Payday has announced a partnership with Starlink in Rwanda to make digital banking accessible to all remote workers & professionals on the continent while ensuring access to a fast and reliable internet connection.
The re-entry into Rwanda marks a significant milestone in Payday's Pan-African and global expansion plans and its burgeoning working relationship as a payment processor for Starlink by SpaceX. Announced in February 2023, Rwandans can purchase Starlink routers from the satellite communications corporation as the country looks to meet its overall targets for widespread internet connectivity and broadband reach across urban and remote areas.
Payday customers in Rwanda can use their virtual cards to pay for the routers and manage their subscription payments. As with customers in Nigeria, they will also be able to send and receive Rwandan Francs (RWF) as well as USD, GBP, and EUR using the Payday App.
Payday recently announced a $3M seed round aimed at securing operational licensing in the UK and Canada; while laying the foundation for entry into several other countries across Europe and Africa – beginning with Nigeria and Rwanda.
Favour Ori, Payday's CEO, said: "We are excited to expand our digital banking services to Rwanda and grow our partnership with Starlink. This presents an opportunity for us to play a significant role in driving financial inclusion in the country and contributing to affordable internet connection regardless of location."
"Access to the internet is no longer a luxury, but a necessity for personal and economic growth. We believe in providing a payment solution that empowers individuals and businesses alike to connect to the digital world and unlock new opportunities for growth and development," Ori added.
Jean-Marie Kananura, Acting Chief Investment Officer at Kigali Financial Centre, commented: "We are delighted to witness Payday's continuous growth. This is a testimony that Kigali International Financial Center has established a trusted framework for Rwandan-based startups to raise capital and scale up globally. Ahead of our Inclusive Fintech Forum in June, we aim to highlight these successes that will continuously position Rwanda as the home of fintech on the continent."
With the country's ambitious target of achieving 90% financial inclusion by 2024, Payday's innovative banking solutions are expected to play a crucial role in achieving this goal. With this latest launch, Payday is set to increase its customer base and establish a strong presence in Rwanda and the East African region.