Pillow Raises $18M To Expand Into Nigeria
The Singapore-based crypto investments startup allows users to save, spend and invest using U.S.-backed stablecoins, including USD Coin and USDT, as well as major cryptocurrencies such as bitcoin and Ethereum, using a simplified, understandable interface.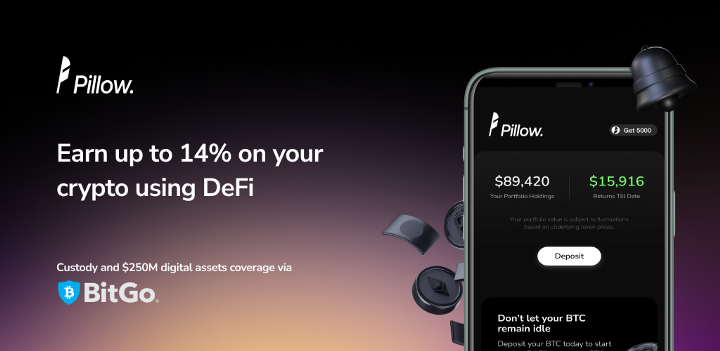 Pillow said today that it has raised $18 million in a Series A funding round to make it easier for people to enter into the confusing cryptocurrency financial market. The funding round was co-led by Accel, Quona Capital, Elevation Capital and Jump Capital.
Pillow focuses on emerging markets such as Africa and Southeast Asia where many individuals are "unbanked," and use their mobile devices to execute financial transactions. According to the company, since the beginning of 2022, it has grown its user base by 300% with its assets under management growing over five times, though it didn't reveal more specifics.
The platform currently has a community of more than 75,000 users in 60-plus countries and has recently expanded into Nigeria, Ghana and Vietnam, among other markets.
Arindam Roy, Pillow's Chief Executive said: "At Pillow, we aspire to create and reward a culture of disciplined personal finance, including savings and investments powered by access to digital assets, that enable young, hardworking, ambitious people to take control of their finances, achieve life goals and work toward financial freedom."
According to Pillow, its vision is to create an easy-to-use application that makes cryptocurrencies understandable for users and opens up decentralized finance. DeFi allows for peer-to-peer transactions using blockchain technology without the need for intermediaries such as banks by using software to regulate transactions.
The Pillow app is designed to be easy to use for non-technical users. People sign up with their email accounts and submit information for Know Your Customer validation such as identification documents, selfies photos and similar I.D.s to comply with anti-money-laundering regulations. Afterwards, users receive education on potential risks when dealing with cryptocurrency markets, for example volatility during trading.
Cryptocurrency scams and hacks have also pervaded the industry in the past few years. As a result, the company uses the cryptocurrency custodial security provider BitGo to secure customer funds and claims a $250 million insurance policy to ensure user funds.
Vaas Bhaskar, principal at Elevation Capital, said: "The lack of intuitive, user-friendly platforms is a big impediment to large-scale adoption of digital assets as an investment class, and Pillow is doing a phenomenal job in bridging this gap."