Taeillo Raises $2.5 Million Fund From Aruwa Capital
The Nigerian-based African furniture brand has grown to become a leading innovative African furniture business with scores of designers and a household name in Nigeria.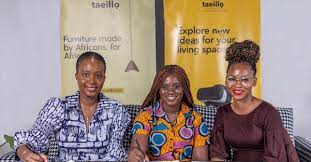 Taeilo has raised $2.5 million in equity funding to expand the delivery of innovative, affordable, and locally manufactured furniture to homes and businesses across the continent.
The funding round was led by Aruwa Capital, a growth equity fund investment firm and will contribute the entire $2.5 million investment, joining the startup's other existing investors.
With this new funding, Taeillo hopes to enhance the client experience and promote continental growth. It also plans to launch new products, provide better services and deploy resources to drive expansion into more markets like East Africa and the diaspora.
The furniture brand is on a mission to provide well-designed, functional, durable, affordable, and sustainable home furnishing solutions to Africans. The business is also using technology and prototype labs for corporate and furniture delivery. Also, the business is utilizing AR and VR to alter the furniture shopping experience in Africa.
The business currently operates in Nigeria and Kenya and is looking to expand its product reach to other countries in Africa. Speaking on the impact of the fund, Jumoke Dada, Taeillo's founder said,
This partnership with Aruwa Capital will take us one step closer to realizing our vision of becoming the IKEA of Africa by producing high-quality, and ready-to-assemble furniture pieces made in Africa at an affordable price for the mass market; while streamlining our business processes and improving our customer experience.
Adesuwa Okunbo Rhodes, Founder & Managing Partner of Aruwa Capital, said: We are thrilled to announce this investment into Taeillo as it aligns with nearly all of our investment objectives. Since its inception, the Company has maintained its innovative model in a traditional brick-and-mortar industry, creating a unique value proposition for its customers in a fast-growing, underserved market. By leveraging technology in its value chain."