The Baobab Network Invests $25k In 5 New African Startups
The Nairobi-Based Accelerator has been accelerating startups with capacity building and fundraising since 2019, and now supports 25 startups in 11 countries after making five further investments as part of a new model.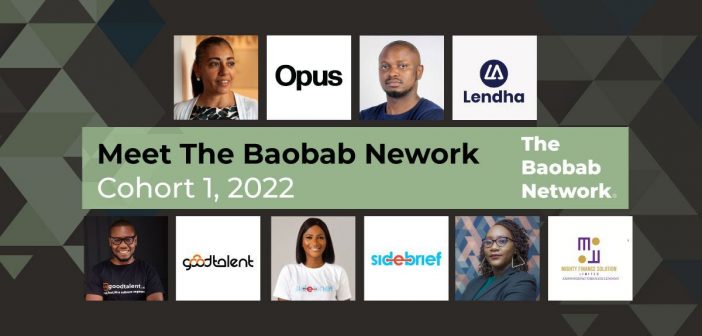 The Baobab Network, a Nairobi-based accelerator that invests in early-stage tech companies across Africa, has announced its latest cohort of five investees, each of which secures US$25,000 in funding.
Arthur Chupeau, head of ventures at The Baobab Network said: "We felt now was the right time to launch our cohort investment model, as the quality of companies that we see in our pipeline has improved dramatically since we first started investing in 2019."
"We now see over 1,500 applicants each year, and in the past 24 months we've processed applications from companies in more than 50 African countries – so our brand reach these days is huge. Our goal is to be the preferred partner for every entrepreneur in Africa that wants to raise their first cheque," Chupeau added.
Three of the investees were from Nigeria, namely Sidebrief, which helps African companies build across borders by streamlining legals, incorporation, company admin, banking and regulation through their APIs; Lendha, a full-stack, tech-led lending platform; and GoodTalent, a talent marketplace for companies to crowdsource, screen, hire and pay engineering talents globally, for full-time, remote, and contract roles.
Also selected were Egypt's Opus Analytics, which is building HR and people analytics software for SMEs and corporates in the MENA region and beyond; and Zambia's Mighty Finance, a lending platform for SMEs.
The five new companies, who each received US$25,000 in funding and an intense programme of growth support, join 20 other startups that The Baobab Network has invested in since it launched its accelerator in 2019.
Wanjiku Kimani, a Venture Partner at The Baobab Network added: "Alongside our funding, we see our core role as an accelerator as being to help founders navigate those tough early months of scaling their business; getting to product market fit, iterating their product and building revenue traction. We work closely with founders to prepare them for a bigger seed round within 6-12 months of joining us."
Startups in the cohort will pitch at an online demo day early June, which investors can register for here. Applications are now open for The Baobab Network's next cohort, which kicks off in June 2022.